Big gig in Hollyweird: Opening the Honey Lounge in Avalon, March 5th, 9:30pm!
Hey Team!
Hope you've been happy, healthy, and listening to good music! It's been ages but this weekend is such a big opportunity for my musical career that I had to get over my spam anxiety and reach out to my friends for support. I miss you guys and feel a bit shy about this mode of reconnection, but sincerely: I'd love to see your faces and conquer the upcoming weekend with your help.
Saturday, March 5th I will be DJing the opening timeslot for Honey Lounge inside of club Avalon in Hollywood from 9:30pm to 11pm.
Joining me will be my incredibly talented friend Dory and another professional DJ named Jay-You in Honey Lounge while the main room features grammy award-nominated Morgan Page and an afterhours set by house music legend Donald Glaude. The Honey Lounge will close at 4am but the main room should go until well after sunrise…
I apologize for the late notice I'm giving you and I realize that not everybody is free (or even in town) but this dream come true will be even better with you there! 9:30 is super early, but there will be an open bar during my set and you'll still have plenty of time to handle your other plans


If you rsvp, cover should only set you back $15 if you arrive before 10pm and $20 before 11pm.
Avalon has featured everybody in the entertainment world in the 80+ years it has been open including Sasha, Digweed, and every other big DJ to various musical talents like Smashing Pumpkins, Nirvana, Soundgarden, Nine Inch Nails, The Beastie Boys, Madonna and even Judy Garland. Come check out the amazing venue and get down to the deep sexy tech-house I will be playing as respite from the higher-energy main-room circus. Bring some friends for us to meet or some electronic neophytes and connoisseurs as the Honey Lounge will be a perfect introduction to my deep house soundscapes.
You can find a flyer for the event below as well as links to RSVP for discounted entry: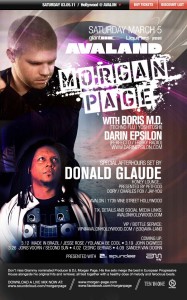 http://giantclub.com/blasts/030511_la.html
http://charlie.la/home/rsvp
I really have all kinds of good news to tell you like my new job at Shaboom Records and the launch of my new 4-hour podcast series but I've felt swamped by the idea of messaging everyone or anxious that a newsletter would be unwelcome if I didn't set up a new mailing list. If you're interested in hearing more about these things, winning giveaways on my radio show, or hearing about badass events could you please sign up for my mailing list at the bottom of http://charlie.la/home ? I'm rather hypersensitive to the idea of humping you with unwanted musical love so please be patient with me as I get the list situated. Enjoy this pre-release copy of my first podcast episode and my 2010 epic "Mucho Gusto" as a token of my thanks!
http://charlie.la/home/ef001/
http://charlie.la/home/music/mixes/mucho-gusto/
When's the last time somebody gave you nearly 10 hours of their absolute favorite music? Don't worry, I've got hundreds more and I'm always interested in feedback so hit me up or leave some comments on the page!
Thank you all again for your encouragement over the years and for spending the time to read through this excited technobabble
Take care and I hope to see you Saturday night,
Charlie