Homegrown by Incognito
or download the mp3 – Right click here and choose save as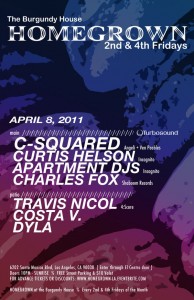 HOMEGROWN hosted by INCOGNITO Global
HOMEGROWN is an event that has decided to shift the focus from overseas to DJs born and/or residing within the USA.
This is a party starting at 10pm til way past your bedtime every 2nd & 4th Fridays of the month and whose objective is to showcase the amazing talents of DJs that are being overlooked by other events just because one doesn't live in Berlin, UK, Amsterdam or what have you. In essence, we believe good music is good music, regardless of where you come from.
At the end of the day, this is an event for the scene, by the scene. The best part of it is, HOMEGROWN DJs know already what you like, and how you like it.
April 8 line-up
——-
main room:
[+] C-SQUARED / Cameron Angeli + Cameron Van Peebles
[+] CURTIS HELSON / Incognito
[+] APARTMENT DJS / Incognito
[+] CHARLES FOX / Shaboom
patio:
[+] TRAVIS NICOL / 4:Score
[+] COSTA V.
[+] DYLA
details
——-
[+] BURGUNDY HOUSE (formerly El Centro & Jimmy's Lounge)
[+] 6202 Santa Monica Blvd (East of Vine)
[+] Hollywood, CA 90038
[+] Doors 10PM – SUNRISE
[+] 21+ with ID