You Have to Just Feel It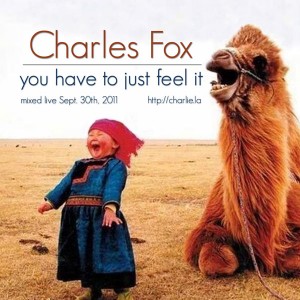 September 30th I had the immense pleasure of DJing my close friend's 40th birthday in the Los Feliz hills and managed to record the first hour of my mixing. The energy was up and the Turbosound system was pumpin when I came on between Kazell and Anton Tumas around 2:00 in the morning.
I'm pleased to share a part of the deep, but energetic, quirky, but joyful music I threw down and note that  I mixed everything in WAV, so if you'd like a high-fidelity version of the mix or have any other inquiries, contact me personally.
Regardless, let me know what you think and leave a comment!
Charles Fox – You Have to Just Feel It – 2011-09-30.mp3 by Charles Fox
Add2Basket & Sabb – Do You Wanna (IO Goshva Remix)
MANIK – Yeah (Wiretappeur's Tappeurior Remix)
Da Funk – Where Is Your Head (Ivan I Raygun Remix)
Pete Moss – Rain Day (The Timewriter Remix)
Isolee – Beau Mot Plage (Onionz Mash Up)
J. Phlip And Julio Bashmore – Midnight At The Aquarium
Oliver Moldan – Backseat Dreams (Kruse & Nuernburg Remix)
Layo & Bushwacka – Summer Gone
Dachsund – Overdue
Le Vinyl – El Papa De Los Helados (UGLH Remix)
Rob Base & DJ E-Z Rock – Joy & Pain (Moodymanc Remix)
Roger Martinez & Funkuz – Close Off Open Up (Peter Horrevorts Remix)
Jesse Garcia – Love Me Now feat Corey Andrew (Peter Horrevorts Remix)